500°F LEWCO Conveyor Oven Used for Drying
LEWCO, Inc. recently manufactured a large conveyor oven for an industrial coating company. The oven is rated for a maximum 500°F and is used to dry coatings on various sizes of glass bottles. The bottles are used throughout several different industries.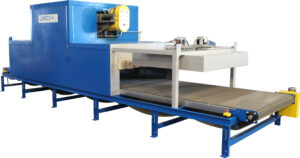 The oven features a top mounted heater-box with 108 kW heat input. Integral plenums and a 3,500 CFM high-efficiency circulation fan deliver uniform "Dual Vertical" airflow throughout the oven workspace. "Dual Vertical" airflow refers to hot air being supplied from top and bottom of the conveyor.  This airflow pattern has proven to be extremely efficient for drying applications.  A 100 CFM exhaust fan is included to assist in the drying process. The discharge end of the conveyor oven features a 5 ft. cooling zone with fans. The fans blow high volume ambient temperature air onto the parts, allowing them to cool enough for handling.
Controls include a Eurotherm temperature controller and redundant high-limit controller providing precise temperature control and over-temperature protection.  A PLC (Programmable Logic Controller) is interfaced with a touchscreen HMI (Human Machine Interface) allowing the customer to easily control all oven and conveyor operations from one convenient interface. A VFD (variable frequency drive) is included to allow the conveyor speed to easily be adjusted.