LEWCO Wins Repeat Business from Automobile Manufacturer
Throughout the years LEWCO has earned a reputation for providing the automotive industry with high quality, reliable, and efficient industrial ovens. LEWCO's superior quality recently led to a repeat paint baking oven for one of the largest automobile manufacturers in the world.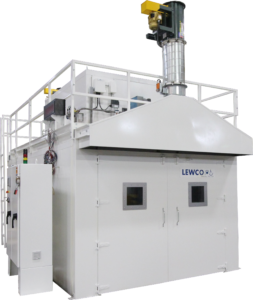 The oven is used to bake paint and other coatings on various vehicle frames. To permit pass-through processing, bi-parting swing doors are included at each end of the oven. High-temperature oven lights are included inside the oven workspace. These interior lights will automatically turn on when the doors are opened. Each set of doors have exhaust hoods installed above them to remove any fumes and heat that exit the oven while the doors are open. The hoods include a 2,000 CFM tube axial fan that is controlled by a door switch. This allows the fan to turn on as soon as the doors are opened.
The oven is heated with direct fired natural gas and has a maximum operating temperature of 350°F. The oven is equipped with two 20,000 CFM circulating fans delivering dual airflow throughout the workspace. Due to the ovens NFPA Class A rated requirement, a 500 CFM exhaust fan is included to remove volatiles. An LEL monitoring system is included due to volatiles being present in the workspace. This is an aspirated system that requires a compressed air line to continuously draw an air sample from the oven workspace. The air aspirated system is required due to the LEL sensor not being suitable for the operating temperatures in the oven. The controller has an alarm system relay that is tied into the oven's burner safety circuit. This allows the burner to shut off automatically if the LEL system senses a dangerous condition.
Oven controls include a ramp/ soak controller and redundant high-limit controller. A PLC is interfaced with a touchscreen HMI to allow the customer to easily control all oven operations from one convenient interface. Control functions include the ability to create, edit, and save multiple ramp/ soak recipes, control oven operations, check oven status, as well as monitor, record, and retrieve process data. A maintenance screen alerts the operator when PM is required. The control panel is inspected and certified per UL508/508A standards.