Challenge Accepted. LEWCO Engineers Design Unique, Compact, & Economical Conveyor Oven
LEWCO, Inc. recently manufactured a custom conveyor oven for a repeat customer in the electric motor manufacturing industry. The customer had very tight space constraints and challenged LEWCO engineers to come up with an oven small enough to fit that requirement, while also achieving the required time and temperature for the parts. The result was a unique, compact, yet economical design.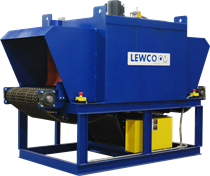 The oven will be used to cure an epoxy in electric motor parts. Parts will travel through the 500°F oven on a flat wire mesh belt conveyor that slides on a steel slider bed. A PLC added functionality and integration into existing systems. Connected to the PLC is a touchscreen HMI that allows the operator to control the fan, heat, and conveyor speed. In many conveyor oven applications, a touchscreen HMI is more ergonomic and efficient than push buttons.
According to Senior Applications Engineer, Lou Schaefer, "We have provided several conveyor ovens to this customer in the past and they continue returning to us for new projects. I attribute this to our engineers and their level of skill and knowledge. We have the resources to develop custom solutions for unique applications." Schaefer goes on, "This project went well and we're already speaking with the customer about another project."
Design Features:
Model: NS-CVB05ED
Workspace Dimensions: 24" W x 48" L x 18" H
Heat Source: Electric
Heat Capacity: 18 kW
Circulation Fan: 700 CFM
Airflow: Dual(combination)