LEWCO Employee Spotlight: Chad Fritz, Engineering Supervisor
At LEWCO, we believe that our people are the organization's greatest asset! We are proud of our dedicated team of exceptional employees who work hard to support the values of our growing company. We have some pretty remarkable people who have a real passion for they do. So, we thought what better way to show our customers about what life is like inside of LEWCO than to have our own employees share their stories? Read on to meet Engineering Supervisor, Chad Fritz!
CHAD FRTIZ, ENGINEERING MANAGER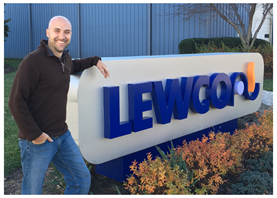 Chad first started with LEWCO in August of 2004 as a Manufacturing Engineer. During his time with LEWCO, Chad has held numerous roles, including Design Engineer and Senior Design Engineer. In December of 2014, Chad was promoted to his current role as Engineering Supervisor. Prior to LEWCO, Chad worked as a CAD Draftsman doing electrical line layouts for commercial buildings with Romanoff Electric Company in Toledo, OH. Chad earned his Bachelor of Science degree in Mechanical Design from Bowling Green State University. While in college, Chad worked as a Packaging Design Engineer for Green Bay Packaging in Fremont, OH.
Chad's Responsibilities
Chad is currently an Engineering Supervisor for LEWCO's line of Industrial Ovens. In his role, Chad is responsible for all daily engineering activities including design, production, electrical controls, and research and development of new products.  In addition to his engineering management responsibilities, Chad serves as a lead auditor for LEWCO's quality system, ISO 9001:2008.
What inspired you to pursue a career in engineering?
I know it sounds stereotypical, but I liked to build things, which seems to be a reoccurring theme with a lot of our engineers.
What kinds of hobbies and interest do you have outside of work? 
I enjoy working with our local Recreation Center. I have coached sports for a few years now and more recently I've helped with the construction of new playground equipment for Bellevue city parks.
What is something you would like to learn to do?  
I enjoy cooking, and lately have been trying to learn how to make sushi rolls…unsuccessfully so far.  There is definitely a technique I need to acquire.