LEWCO Supplies Custom Conveyor Oven for Automotive Industry
LEWCO, Inc. recently designed and manufactured a custom fuel-fired conveyor oven for a company in the automotive industry. The oven is used for curing an adhesive to bond dissimilar materials at 500°F.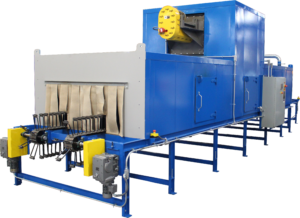 The oven features a single, direct fired, natural gas heater box with a capacity of 1,000,000 BTU's/HR. The large conveyor oven is equipped with a 10,000 CFM circulation fan and a 750 CFM exhaust fan that include air proving circuits that are electrically interlocked with the heating circuit. The high-efficiency circulation fan and integral plenums deliver "vertical down" airflow equally throughout the oven workspace. "Vertical Down" airflow refers to hot air being supplied from a ceiling plenum and pulled downward through the parts.
Due to the unique shape of the parts, the oven is equipped with a dual lane conveyor which includes a 6" wide tabletop chain with customer provided stanchions and fixtures bolted to the chain. This allowed the customer to double the amount of parts passing though the oven. An expanded metal guard is included around the entrance and exit end of the oven to protect operators from touching hot parts coming out of the oven.
The oven is equipped with a Programmable Logic Controller (PLC) which incorporates temperature control, safety, and motion abilities into a single controller. A Eurotherm 3216 temperature controller with a redundant high-limit controller provides precise temperature control and over-temperature protection. Burner sequencing, ignition, and flame monitoring is provided by Siemens flame safeguard. The control panel was built in LEWCO's UL 508/508A certified panel shop.