1,000°F Batch Oven for Glass Bottle Manufacturer
LEWCO, Inc. recently completed a 1,000°F electric batch oven to a manufacturer of glass wine bottles. The oven is used to preheat steel molds up to 800°F prior to casting the molten glass.
The equipment had to be designed to accept the customer's existing custom racks, as well as provide the performance required to meet their specifications. The parts being heated are extremely heavy, so the insulated floor was designed to support up to 4,000 lbs. This unique insulated floor also allows the structural steel to expand and contract with the temperature changes.
LEWCO's design team developed a unique high temperature electric heater bank assembly that uses low watt density heater elements for prolonged service life. Additionally, they used a ceramic fiber insulated plug to help protect the electrical terminals from the oven's high temperatures. All heating elements are accessible from outside the oven.
The controls on this oven are LEWCO standard and include a process temperature controller, a redundant high limit temperature controller, and a full voltage lockable disconnect switch all installed in a NEMA 12 enclosure.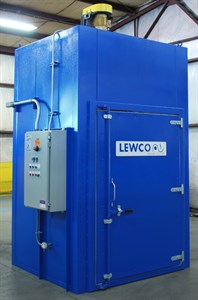 Basic Design Details
Utility:  Electric, 480/3/60
Maximum Temp:  1,000°F
Heat Capacity:  72 kW
Workspace Dimensions:  48" wide x 48" deep x 72" tall
Airflow Pattern:  Dual
Circulating Blower:  3,000 CFM (provides 31 oven air changes per minute)
Door:  standard swing door with double gasket seal
For more information on LEWCO ovens, click here.