Continuous Process Oven Utilizes Recuperative Burner
LEWCO, Inc. recently delivered a custom continuous process oven to a manufacturer of welded wire mesh fabrics. The oven is rated for a maximum operating temperature of 1000°F. and will be used to cure PVC coated, welded wire mesh between 900°F – 950°F. PVC coated wire mesh can be used for a variety of things including marine traps, fencing, and shelving.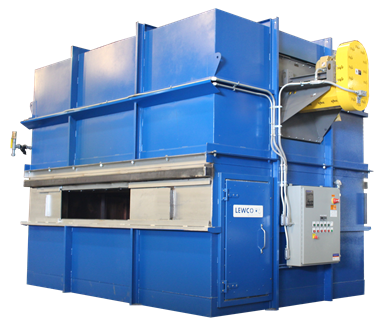 The oven features a single, direct-fired, natural gas heater box with a capacity of 2,000,000 Btu's/Hr. To save on energy costs, the oven is equipped with a recuperative burner. A remote heat exchanger pre-heats combustion air which reduces fuel consumption, while also decreasing heat-up time. The oven is equipped with a 15,000 CFM circulation fan and a 1,500 CFM exhaust fan which include air proving circuits that are electrically interlocked with the heating circuit. The high efficiency circulation fan and integral plenums deliver uniform "Dual Vertical" airflow throughout the oven workspace.
Adjustable panels are installed on the entrance and exit openings to accommodate the various widths of wire mesh. Oven controls include a single set-point process temperature controller with a redundant high-limit controller to provide precise temperature control and over-temperature protection.
According to Applications Engineer, Jason Bowers, "This customer came to LEWCO for a competitive quote and expertise on oven design. What they received was a cost effective solutions that met their process needs."