LEWCO Completes Large Batch Oven for Aerospace Industry; Temperature Uniformity Exceeds Expectations
Recently, LEWCO, Inc. delivered another Enhanced Duty walk-in oven to a longtime customer in the aerospace industry. This is the sixth oven they have purchased from LEWCO in the past three years. It will be used to dry sheets of plaster for aircraft cabins.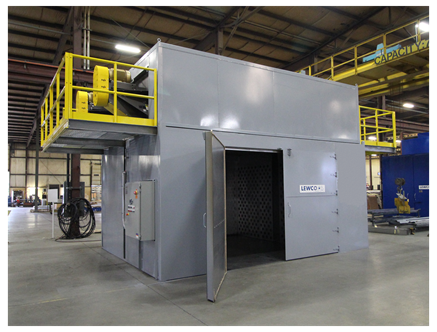 The oven has a maximum operating temperature of 500°F. and features a top mounted heater-box with a 1,500,000 BTU direct-fired natural gas burner. Two 30,000 CFM circulation fans deliver horizontal airflow evenly throughout the workspace. An exhaust fan was included to aid in the drying of the plaster sheets, but it also was required per NFPA 86, Class A due to solvents in the plaster being present in the workspace. The exhaust fan will ensure the solvents present do not reach a dangerous concentration.
It was critical that the oven heat the plaster sheets evenly. As standard, LEWCO Enhanced Duty Batch Ovens guarantee temperature uniformity of +/-10°F. throughout the workspace. A 9-pt. T.U.S. was conducted at maximum operating temperature per AMS2750. Despite the large, 11' wide x 14' deep x 8' high workspace, LEWCO was able to achieve propitious results of+/- 2°F., which far exceeded customer expectations.
Senior Applications Engineer Lou Schaefer comments; "One nice thing about LEWCO is the amount of repeat business we receive. We get to know our customers and build a good working relationship. It makes repeat orders like this especially enjoyable."