Conveyor Oven Preheats Plastic Valve Assemblies for Automotive Supplier
Shortly after delivering a compact conveyor oven to a company in the electric motor industry, LEWCO was contacted by a Tier 1 Automotive Supplier in need of a similar sized conveyor oven.  After speaking with the customer and understanding their needs, LEWCO engineers designed a custom conveyor oven, model CVB05ED. The oven will be used to preheat plastic valve assemblies to 240°F, which simulates conditions the valves experience on a vehicle. The valves are then subsequently pressure tested to ensure proper function and reliability prior to being installed on a vehicle.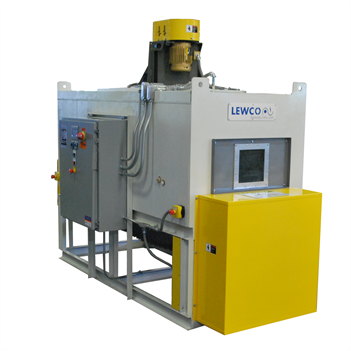 The customer had some unique design requirements for LEWCO engineers to meet. The first requirement was to create custom fixtures attached to the conveyor belt for the valve assemblies to sit in. The location of the fixtures on the belt and the index cycle of the conveyor were critical since the parts are automatically loaded and unloaded. Second, the customer required the conveyor oven be loaded and unloaded from the side of the unit which is much different than the conventional load/ unload zones at each end of a conveyor. LEWCO's engineers collaborated with the customers' engineers to develop a practical solution to accept the automatic infeed and outfeed equipment.
The customer had a very strict timeline to be in production with the parts, therefore an aggressive lead time on the equipment was desired.  To meet this and provide quick delivery, LEWCO leveraged an existing design that could easily be modified.  Despite the unique customer specifications, LEWCO's Application Engineers stepped up to the challenge and successfully delivered the equipment on time. With LEWCO's extensive conveyor oven experience, no other company could have done it as cost-effective and quick.