Decreasing Heat-Up Time: Hot Box with Drum Rotators
LEWCO recently delivered a 300°F. hot box with integrated drum rotators to a repeat customer specializing in rubber and polymer components for OEM's.  A standard model EC04L was modified to include (2) motorized drum rotators with variable speed drives, located externally on the rear of the hot box. The rotators ultimately decrease heat-up time and provide more uniform heating by continuously agitating the drums contents.  The rotators are constructed with high-temperature casters and bearings to ensure long-term reliability. Drums lay on their horizontal axis on wide track casters to prevent denting.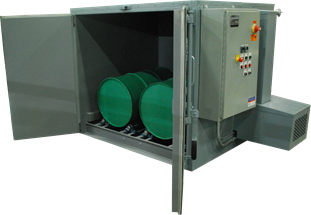 LEWCO's standard electronic process and redundant high-limit controllers were included along with panel face mounted potentiometers to control the variable speed drives.  Drum rotators can be added as a standard option to nearly any LEWCO hot box. Contact a LEWCO Applications Engineer to learn more!