"Hybrid" Hot Box Provides Electric or Steam Heat
LEWCO, Inc. recently delivered a custom "Hybrid" Hot Box to a large petrochemical company in Indonesia. The term "Hybrid" means the equipment is designed to heat with electric or steam. The customer has large utility boilers in their plant that operate during regular work weeks. However, during weekends and holidays, it is not cost effective to run the large boilers, but they still required the drums in the Hot Box to stay warm. As a result, LEWCO engineers designed and built a Hot Box that can be manually switched between steam and electric heat to ensure the customer's products stay warm at all times.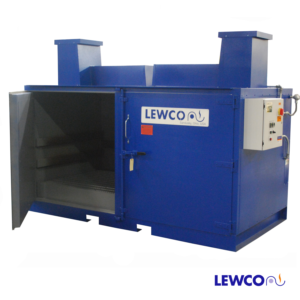 In order to minimize floor space, but still maintain good convection inside the cabinet, the customer requested dual circulation fans be located on the roof. LEWCO's standard electronic controls were included along with a manual switch to allow the operator to change from normal steam heat to electric heat.
The petrochemical industry typically has strict specifications for process heating equipment and LEWCO's Senior Application Engineer, Lou Schaefer, worked very closely with the customer's engineering consulting firm to develop a cost effective solution to win the contract.