LEWCO Conveyor Oven Capable of Remote Control and Monitoring
SANDUSKY, OH. – LEWCO recently delivered a fuel-fired conveyor oven to a leading spring manufacturer in the overhead door industry. The 650°F conveyor oven will be used to stress relieve torsion springs. After speaking with the customer and understanding their needs, LEWCO Application Engineers developed a solution that was capable of being fully integrated into the customer's current manufacturing process.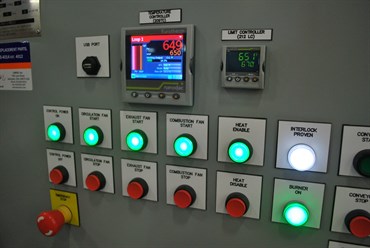 Due to automation of the customer's process and integration with their existing equipment, the oven is equipped with an Allen Bradley Compactlogix PLC. This Programmable Logic Controller incorporates safety, motion, discrete and drive capabilities into a single controller. The PLC, VFD and temperature controller all communicate over Ethernet IP allowing remote monitoring and process changes from a master control room through the customers HMI. Local oven control is maintained through pushbuttons and a highly precise Eurotherm temperature controller/ data logger. This controller also allows the customer to monitor and record the temperature data of their process, and easily access that data via a webserver or through USB archiving.
Another unique feature about the conveyor is that the speed is adjustable from 1-3 feet per minute through the use of an Allen Bradly 525 variable frequency drive. The conveyor oven is designed to meet NFPA 86, Class B standards and includes a top mounted heater-box with 1,000,000 BTU heat input. A 2,000 CFM high efficiency circulation blower delivers vertical down airflow to the workspace.
LEWCO provided a solution to suit this continuous oven application. According to Applications Engineer Michael Luli; "This was a unique project because our standard controls had to be upgraded to run through a PLC. With manufacturing processes becoming more automated, we are continuously tasked with custom controls requests, which is a great opportunity to advance our control capabilities and packages. It really helps having extremely knowledgeable controls engineers in-house, who are well versed and trained in the latest technology."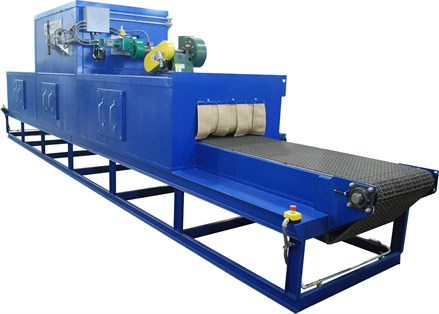 Specifications:
Model: CVB06FD-30-264-12
Workspace Dimensions: 30" W x 264"L x 12" H
Heat Source: Direct Fuel-Fired
Heat Capacity: 1,000,000 BTU's/ Hr.
Circulation Fan: 2,000 CFM
Airflow Pattern: Dual