LEWCO Employee Spotlight: Meet Andy, Business Systems Developer
At LEWCO, we believe that our people are the organization's greatest asset! We are proud of our dedicated team of exceptional employees who work hard to support the values of our growing company. We have some pretty remarkable people who have a real passion for they do. So, we thought what better way to show our customers about what life is like inside of LEWCO than to have our own employees share their stories? Read on to meet Business Systems Administrator, Andy Smith!
ANDY SMITH, BUSINESS SYSTEMS ADMINISTRATOR
Andy has been an integral part of the LEWCO team ever since he started working here 28 years ago, on June 1st of 1987. He had a drafting teacher in high school that got him interested in this career field. Andy enjoyed those courses so much that began working at a Construction, Machinery, Fabrication business right after he graduated from high school. After six years of experience with that company, Andy got offered an engineering position at Lake Erie Welding working for Tony Guerra. That is where it all got started and he has been with the company ever since.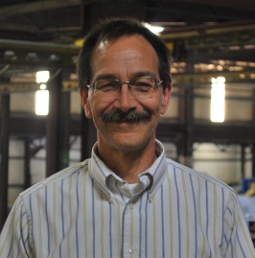 Andy's Responsibilities
Andy has filled many positions at LEWCO such as Engineer, Scheduler, and Engineering Manager, but presently he is the Business Systems Developer. Andy is working on developing and implementing new software for the company so we can improve our efficiency and effectiveness.  The projects he is working on include the new online configurator, the LEWCO customer portal, new ERP software, and also new nesting software.
Outside of work, Andy enjoys spending time with his wife and two children most of all. He is also the fire chief for the Berlin Township Fire Department in Berlin Heights, Ohio which keeps him very busy. He has been on the fire department for 31 years. Other hobbies Andy enjoys include working outside and riding his snowmobile.
Which day of the work week are you the most productive?
I am most productive early in the morning every day, prior to start of normal business hours. It is quiet and I can get a lot more done when I get here early. 
What do you consider your greatest achievement(s)?
My greatest achievements come from working hard to advance both LEWCO and the Fire Department. I take pride in both jobs very much and when they succeed, I have a sense of personal achievement when I am a part of that success.
What is the one thing you couldn't live without?
Vacation! I love working, but I couldn't live without relaxing on the beach in the summer and going up north to snowmobile in the winter.