LEWCO Conveyor Oven Used to Cure Proprietary Coating on Jet Turbine Blades
SANDUSKY, OH – LEWCO, Inc. recently delivered a custom conveyor oven used to cure a proprietary coating on jet turbine blades.  The 350°F electric oven features a flat wire mesh belt conveyor, a control system that communicates temperature and conveyor speed data to a remote central control PLC, and a unique LEL (lower explosive limit) monitoring system.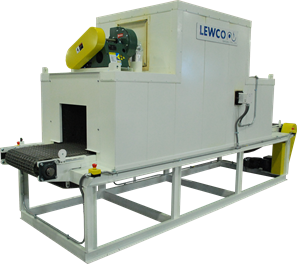 The customer requested an LEL monitoring system on the oven, due to the presence of the proprietary solvents being heated.  A design challenge was encountered because the solvent could not be detected by traditional "Sample Draw" LEL Sensors.  LEWCO engineers decided to use an "Open Path" detection system instead, which reacts 5-10 times faster than sample draw models.  This type of detector does not require any sensor to be directly in the oven's heated airstream, therefore simplifying the LEL monitoring system.  There is no need for any long lengths of cooling tubes or expensive sample draw equipment.  If a dangerous concentration percentage of the LEL is ever reached, the controller will automatically sound an audible alarm and shut down the oven heaters.
The customer acknowledged they had an aggressive delivery schedule for the project due to production requirements. LEWCO delivered the equipment fully tested, assembled, and on-time. LEWCO's Sr. Applications Engineer, Lou Schaefer, followed the project and comments; "The customer was very happy when the equipment was delivered within their aggressive timeframe. If a customer needs it done, LEWCO can do it."