LEWCO Delivers 3rd Portable Cabinet Oven to Repeat Customer
LEWCO recently delivered a 500°F electrically heated cabinet oven to a leading supplier of rubber systems and components for the automotive industry. This is the third oven LEWCO has supplied to this loyal repeat customer.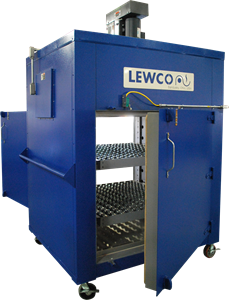 Due to the nature of the customer's process, the oven needed to be portable so LEWCO engineers designed the oven to include large, heavy-duty casters at the base. Doors were also placed on both the front and back sides of the cabinet for dual product access.  To ease accessibility, two adjustable roll out shelves with skate wheels were included.  The shelves are adjustable on 3" centers and have a capacity of 1,000 lbs. distributed load.
The oven included a bottom mounted heater-box with 36kW heat input and a 1,400 CFM high-efficiency circulation fan delivering horizontal airflow to the workspace.  It is NFPA 86 Class B rated.
Model: NS-CBT05EH