Constant Temperature Storage Cabinet
SANDUSKY, OH – LEWCO, Inc. recently delivered its 4th constant temperature storage cabinet to a multi-national beverage manufacturer. Many beverage manufacturers add an ingredient called "Velcorin" as a microbial control agent in their canning processes. Velcorin is a delicate product and must be stored in a constant temperature range of 70–90°F. Therefore, the storage cabinet must have the ability to heat and cool automatically to stay within this temperature range.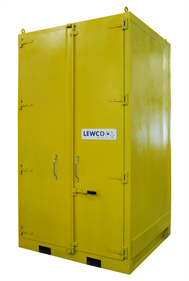 For the application, LEWCO engineers modified a standard (8) drum multi-level heating cabinet. The constant temperature cabinet features a unique HVAC control system that automatically switches between heating and cooling, as required to maintain 70-90°F. inside the cabinet. A digital read-out thermostat is included. The special thermostat is pre-programmed prior to shipment so installation only requires moving equipment into position and hooking up electricity.
The customer acknowledges that the storage of Velcorin was always a challenge until they purchased these cabinets from LEWCO. Previously they had to dedicate a room in their plant to storage and install a dedicated HVAC system. Now, with the LEWCO Constant Temp. Cabinet they have more space and the flexibility to move the cabinets wherever they want in their plant. Overall, this led to improved efficiency and less handling of product because the Velcorin can be closer to point of use in the manufacturing process.
LEWCO offers Constant Temperature Cabinets in 2, 4, 6, 8, 12, 16, 24, and 32 drum capacities, as well as 1, 2, 4, 6, and 8 tote capacities. Additionally, LEWCO can easily and economically customize standard drum and tote heating cabinets for other applications such as cooling, freezing, and general non-temperature controlled storage cabinets. To learn more about LEWCO's Custom Equipment Solutions, contact one of our highly knowledgeable Applications Engineers by emailing ovensales@lewcoinc.com. We look forward to speaking with you!