LEWCO Designs Conveyor Ovens for Hose Clamp Manufacturer
LEWCO, Inc. recently delivered two continuous conveyor ovens to a manufacturer of specialty hose clamps. The ovens, model CVB03ED, will be used to heat treat various hose clamps up to 350°F. Both ovens were designed to meet the requirements of NFPA 86, Class A ovens due to residual oil and other lubricants being present on the parts.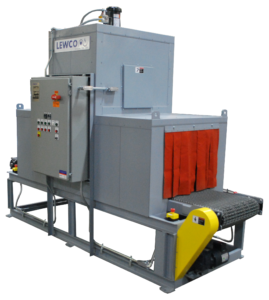 Each oven features a top mounted heater-box with 36kW heat input. A 700 CFM circulation fan delivers dual airflow throughout the workspace. The control system includes a single set-point process temperature controller, redundant high-limit controller and variable speed conveyor drives. The conveyor drives allow the ovens to operate in a timed index mode and can be adjusted from 2-4 feet per minute. This was critical for the customer as their parts required various dwell times.
The customer used LEWCO's product configurator to specify their oven requirements. The configurator allows customers to configure their desired oven through an interactive website process. This enables the customer to be sure they are getting an oven to meet their requirements. Click here to configure your product today!