LEWCO Employee Spotlight: Meet Ralph, Field Service Technician
At LEWCO, we believe that our people are the organization's greatest asset! We are proud of our dedicated team of exceptional employees who work hard to support the values of our growing company. We have some pretty remarkable people who have a real passion for what they do. So, we thought what better way to show our customers about what life is like inside of LEWCO than to have our own employees share their stories? Read on to meet Field Service Technician, Ralph Prowant.
RALPH PROWANT, FIELD SERVICE TECHNICIAN
Ralph joined the LEWCO team in February of 2014. He has worked as an Electronics Technician for the United States Navy and has over 30 years of electronic repair and field service experience.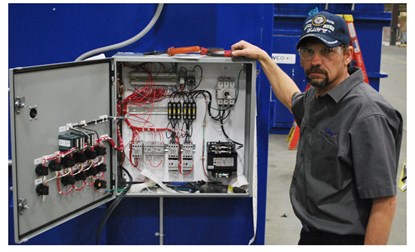 Ralph is responsible for customer site installation and commissioning of new equipment, as well as performing field service work on existing equipment for LEWCO's Industrial Ovens Product Line. When not on the road Ralph assembles control panels for many LEWCO products and completes final assembly and testing before shipment.
What do you consider your greatest achievement?
My greatest achievement was receiving the Navy Achievement Medal. I received this medal for going above and beyond to successfully repair the secure communication line for a ship I was stationed on.
What is something you would like to learn to do?
One thing I would have always been interested in learning is to properly weld.
What is your most treasured possession?
My most treasured possession is my 1968 Plymouth Barracuda.