LEWCO Ships Walk-In Oven to Aircraft Manufacturer
Recently, LEWCO, Inc. delivered a 650°F enhanced duty electric batch oven to a world-class aircraft manufacturer. This oven is unique as it is used for two applications. The oven cures various aerospace composite parts and also heat treats parts up to a maximum temperature of 650°F.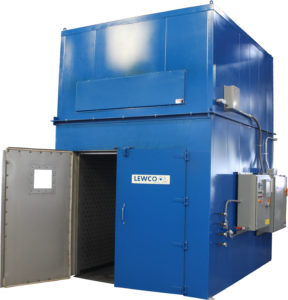 The enhanced duty walk-in oven features a top-mounted heater box with 144kW heat capacity. The oven is equipped with a 22,000 CFM high-efficiency circulation fan delivering dual airflow and providing uniform heat throughout the workspace. Due to some of the parts containing solvents, the oven is rated for NFPA 86, Class A and includes a 500 CFM exhaust fan. The oven is furnished with lanyards to hold the doors open while personnel enter the oven. An e-stop pull cord is included inside the oven to immediately power down the oven in case of entrapment. Included are (4) ½" NPT through wall vacuum ports with manual shut-off valves and dial pressure gauges on the exterior. All ports are connected to a 1" NPT common header pipe for a single connection to the customer's vacuum source.
The customer required the oven to meet strict temperature uniformity requirements of +/- 10°F at an operating temperature of 650°F. A 9-pt. temperature uniformity was conducted, and results were well within the specifications.
Oven controls included a Eurotherm Nanodac temperature controller with a redundant high-limit controller providing precise temperature control and over-temperature protection. This controller has a multitude of capabilities such as ramp/ soak programming and serial communication port. A Honeywell Multitrend Data Logger with 14 inputs was included and installed in the main control panel. The data can be downloaded via local USB or Ethernet.