LEWCO Supplies Paint Curing Ovens to Automotive Manufacturer
Throughout the years LEWCO has earned a reputation for providing the automotive industry with high quality, reliable, and efficient industrial ovens. LEWCO's prestigious reputation recently allowed them to win a contract to design and build two custom paint baking ovens for an automotive manufacturer's research facility.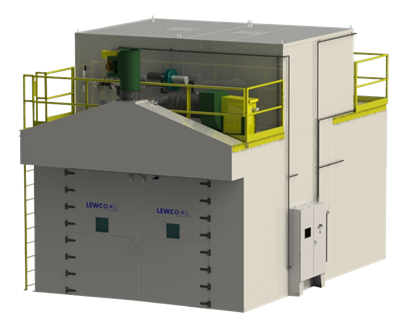 The ovens are used to cure a powder coating, dry paint and preheat automotive components including complete bodies and frames. The customer's application required bi-parting swing doors at each end to permit pass-through processing. To reduce the ovens impact on the surrounding area, exhaust hoods were installed above each set of doors. Fans over the hoods automatically start to remove any fumes and heat that exit the workspace when the doors are opened.
Both ovens are heated with direct fired natural gas and have a maximum operating temperature of 500°F. Each oven is equipped with two 50,000 CFM circulating fans delivering dual airflow throughout the workspace. Due to the ovens NFPA Class A rated requirement, a 3,000 CFM exhaust fan is included to remove volatiles. LEL monitors are installed in both ovens to monitor the volatile level in the workspace to maintain safer operating conditions. Recirculation air filters were provided to maintain a class A finish on the parts.
Oven controls include a Eurotherm Nanodac temperature controller and redundant high-limit controller. A PLC is interfaced with a touchscreen HMI to allow the customer to easily control all oven operations from one convenient interface. Control functions include the ability to create, edit, and save multiple ramp/ soak recipes, control oven operations, check oven status, and also monitor, record, and retrieve process data. A maintenance screen alerts the operator when PM is required.
Just like the automobiles on the road today, these ovens meet the standards required by the automotive industry for quality, safety, and reliability.