NASA Installs New LEWCO Composite Curing Oven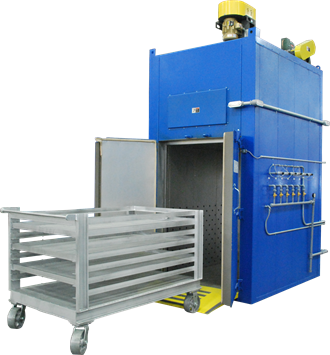 CAPE CANAVERAL, FL. – NASA's Kennedy Space Center recently installed a new LEWCO Industrial Oven, which researchers will use in their R&D laboratory to cure various vacuum bagged composite components.  The Ohio-based, ISO 9001:2008 certified company, LEWCO, Inc., was selected for this project due to their ability to meet the strict specifications for government and aerospace performance requirements.
After talking with NASA and receiving specifications, LEWCO Applications Engineers proposed a custom industrial oven that proved to be the      preeminent solution for the composite curing process. As part of this process, NASA researchers lay-up various composite materials on custom tooling, and then place a vacuum bag over the layup to seal it to the tool.  The tools are      then placed on a cart to be loaded into the oven. Once in the oven, vacuum hoses are connected to the sealed bags and a vacuum pump removes air. Vacuum transducers continuously monitor the vacuum level to confirm compliance with the part recipe. Then the heating cycle begins.
LEWCO's engineers utilized electric, low watt density Incoloy® heaters with dual airflow to efficiently deliver heat to the oven workspace. The oven has a maximum operating temperature of 500°F. and LEWCO guarantees a minimum temperature uniformity of +/- 5°F. at this temperature. Prior to shipment, per standard testing procedure, LEWCO conducted a 9-point temperature uniformity survey based on AMS2750E testing requirements. The composite oven easily exceeded the requirement, achieving results better than +/- 5°F.
The oven is controlled via a state-of-the-art Eurotherm Nanodac system. This system gives NASA the ability to create and store specific ramp/ soak recipes for different composite curing processes, as well as full data logging capability to record and analyze different batch results. Per specification, LEWCO Controls Engineers programmed the system to continuously monitor up to six type "J" thermocouples located inside the oven, which will automatically adjust oven temperatures based on lagging thermocouple data.  All vacuum transducer data is also recorded.
According to Senior Applications Engineer, Lou Schaefer; "The investment in this oven is relatively minor for NASA, but it is one that will quickly pay-off and last forever, if properly maintained. It provides them with the technology to help develop new composite parts and materials.  We're excited to have won this contract and developed a great relationship."