Field Assembled Conveyor Oven for Drying
LEWCO, Inc. recently was awarded a contract to design, fabricate and install a custom field assembled conveyor oven for drying a proprietary preservation coating. Due to the overall size of the oven along with the requirement to install on an existing elevated platform this project will be a field assembly design. This oven is required to be NFPA 86 Class A rated because of a very high solvent load in the coating. The oven control system includes a single set-point process temperature controller along with a redundant high-limit controller.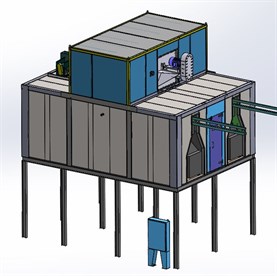 The oven will feature a top mounted direct fired natural gas heater box that has a heat capacity of 1,500,000 BTUH and a max temperature of 200⁰F. The oven consist of a 30,000 CFM circulation fan and a 2,000 CFM exhaust fan which include air proving circuits that are electrically interlocked with the heating circuit. The high efficiency circulation fan and integral plenums deliver uniform "Dual" airflow throughout the workspace. The Dual airflow will allow the parts to be evenly dried. "Dual" airflow is particularly well suited for irregular parts as air is delivered from both sides of the workspace and returned to a plenum in the ceiling.
One of the reasons LEWCO was awarded this contract was because our application engineers took the time to thoroughly understand the process and develop a cost effective solution with the General Contractor, says Lou Schaefer, LEWCO Sr. Application Engineer.