LEWCO Delivers Composite Curing Oven to Research Laboratory
Recently, LEWCO, Inc. commissioned a large 500°F. vacuum assisted composite curing (VACC) oven to a national research laboratory. Researchers use this oven in their R&D laboratory to cure various composite parts.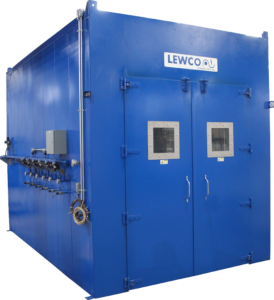 The enhanced duty electric walk in-oven features a rear mounted heater-box with a heat capacity of 99kW. The oven is equipped with a 18,000 CFM high-efficiency circulation fan delivering dual airflow and providing uniform heat throughout the workspace. A temperature uniformity survey was conducted to ensure that customer requirements for their specific process have been met. The temperature uniformity survey exceeded customer specifications of +/- 10°F, by achieving better than +/-5°F at maximum temperature.
LEWCO's PLC/PC based composite curing control system was included. Operators have full control of all oven and control functions from the touchscreen HMI. They can create and store multiple ramp/ soak recipes, enter specific batch data, select thermocouples, and vacuum ports for each recipe, view trend data, and print reports (if needed). The different HMI screens can be password protected for different levels of users. The process data is stored on the internal hard drive of the PC, and in the main process controller for redundant back up. Ethernet IP communications provide ability for remote monitoring and troubleshooting. The oven and controls are designed to comply with AMS2750 standards.
Included with the oven are (12) electronically controlled vacuum ports, (12) vacuum transducer ports, and (24) type "J" thermocouples. Each vacuum port includes a high temperature quick disconnect fitting on the oven interior with a dial type pressure gauge and electro/ pneumatic valve on the exterior. The vacuum ports are connected to a common 1" NPT header with (6) ports located on each side of the oven. The transducers are connected to separate ports allowing the pressure to be monitored on the parts, instead of just the piping.
A 45°F chilled water heat exchanger coil is also included to provide faster cool down rates. This has proven to provide more reliable cooling rates versus traditional ambient air cooling.