LEWCO Designs Custom 900°F Industrial Oven
LEWCO, Inc. recently manufactured a custom 900°F industrial oven to a company in the nuclear supply industry. The top load oven is electrically heated and is used for a multiple applications.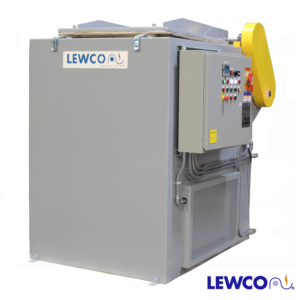 This batch oven is equipped with a bottom mounted heater box and an electrically actuated top load door.  It has a heat capacity of 36 kW.  A 700 CFM high-efficiency circulation fan delivers horizontal airflow evenly throughout the workspace. The oven is equipped with a structurally reinforced floor to support up to 600 lbs.
Oven controls include a programmable ramp/soak temperature controller and redundant high-limit controller that provide precise temperature control and over-temperature protection. The main process controller also includes Ethernet communications to allow remote monitoring of temperature and alarms.