LEWCO Drum & Tote Heating Cabinets Have Many Uses
LEWCO, Inc. manufactures a full line of drum & tote heating cabinets (Hot Boxes) that use electric, steam or thermal fluid, to heat materials to a maximum temperature of 300°F. Standard models accommodate (1) to (48) drums, or (1) to (8) totes. The purpose of heating the drums or totes varies, but common applications are lowering the viscosity for pumping, or melting a solid to a liquid.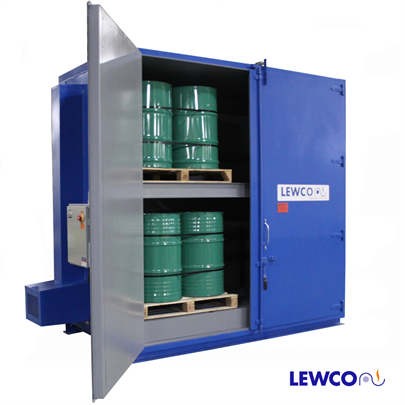 Materials, like some oils, have a tendency to thicken at cooler temperatures and are stored at elevated temperatures to lower their viscosity so they can be more easily mixed or pumped. Materials, like honey, that are typically in a solid state at room temperature, are heated to melt to a liquid state. Other products, like paint, will freeze in cold outdoor environments and are stored in heating cabinets to prevent freeze damage.
LEWCO offers drum rotators as a standard option for all drum heating cabinets. Drum rotators are typically used to increase melting efficiency, or to promote mixing in the drums. LEWCO's drum rotators come standard with variable speed control to adjust the rotational speed, if needed.
Perishable food items, like orange juice, that have been frozen are heated so that the contents can be poured or dumped from the drums. LEWCO offers conveyorized drum heating tunnels for continuous operations such as juice manufacturing.
Drum heaters are also often used for heating flammable and/or combustible materials. It is important to never heat a product higher than its auto ignition temperature. LEWCO offers steam and hot water heated models that can be configured for electrically classified areas (Class 1, Division 2, Groups C&D).
Feel free to contact LEWCO's industrial oven sales department to discuss your drum heating requirements with an applications engineer.
Click here to visit our drum heating cabinets webpage!