LEWCO Ships Two Batch Ovens to Overseas Manufacturer
LEWCO, Inc. recently shipped two Enhanced Duty Walk-In Ovens to a large international manufacturing company. The ovens are used to heat-up molds to 220°F, with each mold weighing approximately 900 pounds. Inside each oven is a custom rack with five shelves capable of handling up to five molds per batch.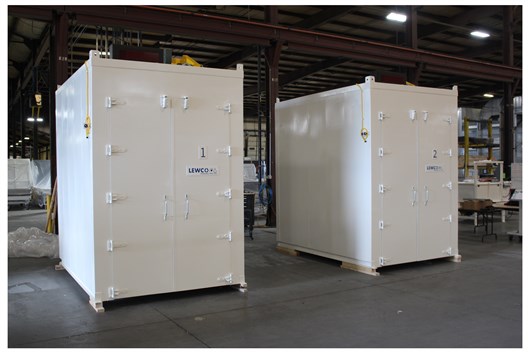 The pre-heating ovens feature a rear-mounted heater box with a heat capacity of 72kW. Both ovens are equipped with an 8,000 CFM high-efficiency circulation fan, delivering dual airflow evenly throughout the workspace. The ovens are furnished with a few special features including, zero speed switches on the fans in place of differential pressure switches, eliminating possible shutdowns. Another feature is mounting a large LED digital batch timer display to the roof of the oven, displaying the time remaining in each batch.
Controls for both ovens and a custom 10-zone conveyor; also provided by LEWCO, Inc., are operated from a remote touchscreen HMI. Each oven includes a local control panel mounted to the rear wall. The local control panels include all motor starter circuits, temperature controls, PLC, and safety circuits. Each PLC communicates via Ethernet to the remote touchscreen HMI. The touchscreen HMI is capable of controlling up to six ovens in total.
In addition to the standard thermocouple located in the supply plenum, LEWCO, Inc. included five additional thermocouples in each oven, with them being located on each shelf of the rack. Ramp/ soak recipes allow for "guaranteed soak," which means all five thermocouples must be in spec before the program will move on to the next segment. If any of the thermocouples are out of spec, visual alarms appear on the HMI alerting operators.