Environmental Cleanup? Yes, we can help with that.
SANDUSKY, OH. – LEWCO, Inc. recently delivered ten custom batch ovens for an industry leader in environmental services. Working in close partnership with the U.S. Department of Energy, the customer's specifications were rigorous, challenging, and precise. The result? Ten industrial ovens, uniquely designed unlike any other.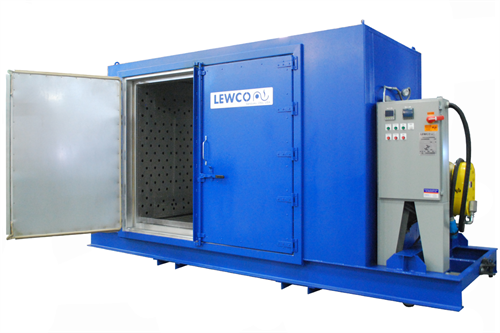 The electrically heated batch ovens have a maximum temperature rating of 650°F and feature 5,000 CFM high-efficiency circulation fans, which deliver horizontal airflow to the workspace through an integral supply plenum. All (10) batch ovens have been built to NFPA 86 Class B safety requirements.
Due to the sheer size and extent of work at the customer's project site, which includes multiple buildings located throughout the property, portability was a major concern. The ability to easily transport the ovens to different locations on the property was essential. As a result, the ovens were designed to feature large casters, as well as tow couplings, that permit manageable mobility and allow the equipment to be towed through the project site.
Once on site, the portable ovens will house customer supplied process equipment that is integral to the customer's environmental cleaning process.  In order to accommodate the loading of the equipment, the ovens were designed with a removable roof panel, giving the customer the ability to load and unload the process equipment with the use of an overhead crane.  Bi-parting swing doors on both the front and back side of the oven also permits convenient and complete access to the equipment.
Standard LEWCO oven controls were upgraded to include Eurotherm Nanodac controllers that allow data acquisition of up to four channels.  This system provides a simple yet reliable operating platform for the customer's application.
According to Applications Engineer and Project Manager, Michael Luli, "This project was very unique from the beginning and included a number of non-standard features that required some out-of-the-box thinking from our Oven Team.  Tight specifications and delivery time, combined with the large quantity of ovens ordered, required our workforce to be spot-on. In the end, the project came in ahead of schedule. We could not be happier with the results."