LEWCO Utilizes Humidification System for Curing Special Coating
When a leading company in the aerospace industry was in need of an oven to suit their unique application, they turned to the experts at LEWCO. Their application involved curing a specialty coating on composite parts while maintaining relative humidity above 50%RH.  The custom walk-in oven will operate around 168°F. and will sustain temperature uniformity of +/- 10°F. throughout the workspace.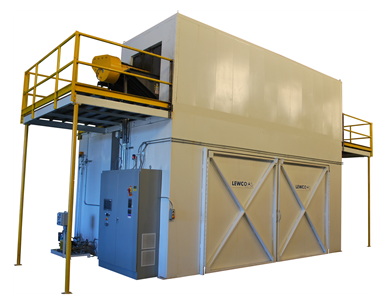 Maintaining relative humidity above 50%RH created a challenge for the engineers at LEWCO as adding moisture to raise the relative humidity at elevated temperatures isn't an easy task to accomplish.  The amount of moisture air can hold grows dramatically as temperature increases. To solve this problem, LEWCO's engineering team developed a unique humidification system to inject moisture directly into the oven's circulated airstream. To control the amount of water sprayed in the airstream, the oven was equipped with a relative humidity sensor and controlled through a custom PLC control system on a touchscreen HMI. The control system allows the user to do a variety of things such as save multiple ramp/soak recipes, check the oven status and view processing data. The oven can also operate with or without the humidification system.
The customer had space limitations therefore; the oven had to be designed to ship into multiple sections to fit into an existing space. According to Senior Applications Engineer Lou Schaefer; "This project was another perfect example of LEWCO's process heating expertise developing a solution for a customer's unique application."